SHARE-WARE

Don't buy, exchange! All over the world, trading clubs are starting up. Babysitting the neighbor's children, giving guitar lessons or fixing a flat tire: the payment is in pseudo monetary units such as Zeros, Blanks, Noughts, and Breads. Sociologists consider trading a reaction to the economic depression, but the trend would have happened anyway. Exchanging services with each other without having to draw money from a cash dispenser is a welcome creative enterprise.
In design, it seems that luxury style might also be a thing of the past before long. 'Less is more' will ultimately relate to the price tag too. The hippest fashion and design brands increasingly believe in 'do-it-yourself' quality. Trendy design collective Atypyk even encourages the DIY aspirations of its potential customers by reserving a section of the atypyk.com website for its free 'Please' creations. This is an open ideas box with the motto: 'IDEAS THAT ARE FREE TO USE AND/OR TO ABUSE' full of brilliant finds for design fans.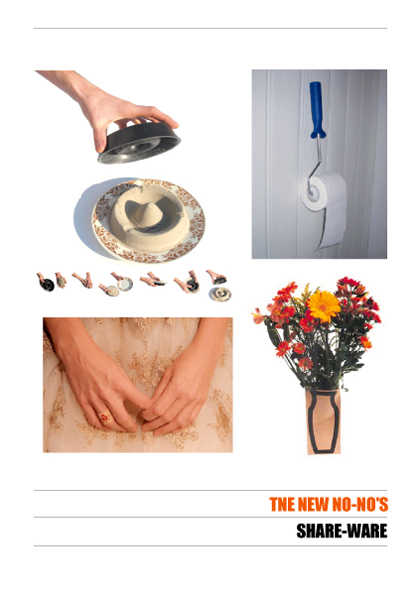 Left to Right: Sandy-Ashtray: Bertjan Pot (monkeyboys.nl)/ Toilet paper holder: Atypyk/ Paper Vase: Daniel White (monkeyboys.nl).